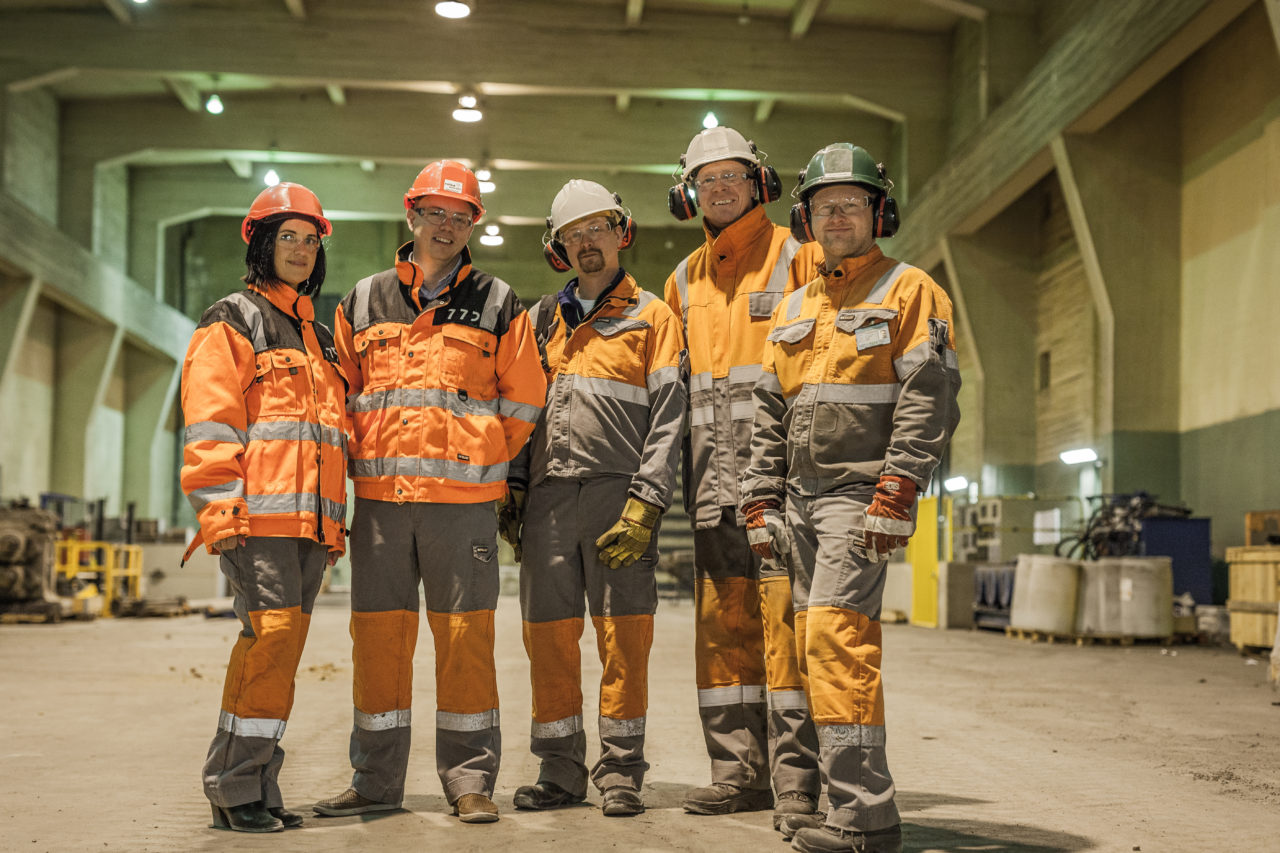 Expanding before it's even started
31 May, 2016 12:42
Del
Del
Del
Jolita Dubauskaite and Jon Arild Karlsen from Celsa Steel Service, and Lars Frøysa, Ketil Hauknes and Petter Venes Skatland for Celsa Armeringstål, look forward to seeing life and activity in the old  Ignerhallen again.Even before the installation of Celsa Steel Service's new factory in Mo Industrial Park has got underway, the company has decided to expand.
Celsa Steel Service AS recently decided that the manufacture of their standard reinforcing mesh is to be moved from a factory in Storo, Oslo, to a new factory in Mo Industrial Park.
The factory will be established in Ignerhallen, which is a part of the old rolling mill. Following Ruukki's decision to discontinue its operations in Rana, Celsa Armeringsstål AS purchased the enormous 2000 square metre building, which has since been used primarily for storage.
Tight schedule
Installation of equipment for the new factory is scheduled to start in Week 28, and production is scheduled to start in Week 40.
– There is an incredible amount that needs doing within a relatively short period of time. But we have the ambition to pull it off, says Ketil Hauknes, department manager at Celsa Armeringsstål and manager of the factory project.
Jon Arild Karlsen, operational manager at Celsa Steel Service, can confirm that the company has ambitions in Mo i Rana.
– We are here to grow and have decided to also set up the manufacture of special meshes here, in conjunction with our new factory, says Karlsen.
High-tech equipment
The reinforcing mesh factory is due to begin production in October, and production of the special mesh is scheduled to begin around New Year. Whilst mesh production is already a part of Celsa Steel Service's portfolio, the production facility for special mesh will be the first of its kind in Norway.
The production of special mesh will result in Celsa Steel Service's customers saving both time and money.
– We currently purchase special mesh from Sweden, says Karlsen.
In connection with the establishment of the factory in Rana, Celsa Steel Service will invest in high-tech production equipment. Physically demanding tasks will be automated. The size of the spools will be doubled at the re-spooling facility, which is currently a part of Celsa Armeringsstål's business, but will be incorporated into Celsa Steel Service. This will optimise production relative to the market.
– New equipment will increase productivity and enable us to produce what would have taken three shifts to produce in Oslo, in two shifts in Mo i Rana, says Carles Rovira, CEO at Celsa Nordic.
The finished products will primarily be transported from Mo i Rana and out to customers by boat. Road transport will be used if time and distance permits.
Perfect time and place
The new factory will provide new jobs in the industrial park, and it strengthens Celsa Nordic's presence in Mo i Rana. In addition, establishing the factory will have a positive ripple effect, both during the development phase and later in connection with suppliers working in logistics, transport and infrastructure.
– We are starting with 16 workers at the mesh factory. A production manager, three operators and twelve employees who are currently employed at Celsa Armeringsstål's re-spooling facility. The special mesh production will provide further new jobs, although we cannot currently quantify this, says Jon Arild Karlsen.
There are several reasons why Celsa Steel Service has decided to close down its factory in Oslo and establish a new one in Mo i Rana.
– Today, the raw materials that we process further are transported from Mo i Rana to Oslo. A large part of this is then transported north again. By moving production here, right next to a rolling mill, we get an efficient flow of goods that benefits both the environment and the economy. And Celsa have facilities here that are ready to be put to use, which leaves room for further development and growth that we consider to be difficult, if not impossible, in Oslo, says Jon Arild Karlsen.
Tags: Celsa Armeringstål AS, Celsa Group, Celsa Nordic, Celsa Steel Service AS, Mo Industrial Park

Categorised in: Gulesider
Del
Del
Del