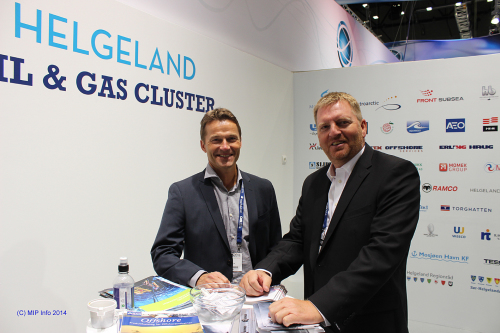 MIP Cluster presented at ONS
29 October, 2014 13:03
Del
Del
Del
Mo Industripark AS used ONS in Stavanger in August to present MIP Cluster.
Behind MIP Cluster lay a desire to facilitate more oil and gas-related projects among the established suppliers at Mo Industripark. MIP AS also wanted to attract new, complementary ventures.
Head of Marketing Jan Gabor of Mo Industripark AS explains that from the beginning this was a project initiated by Terje Lillebjerka, Director of Operations at Mo Industripark AS. He engaged Rana Utviklingsselskap AS, which mobilised companies at the industrial park in Rana and outside the region which were interested in focusing on the offshore market.
A steering committee was set up for the project which included Gunnar Moe of Momek Group AS, Knut Hatlen of Miras Grotnes AS, Terje Lillebjerka of Mo Industripark AS and Charles Lien of BRING, who is also the chairman of Oil and Gas Cluster Helgeland.
The project got off the ground last winter, and the message to be presented to the offshore industry was agreed via the steering committee.
A decision was made to focus on the collective skills within the industry cluster in Mo i Rana, and as a result a film and a presentation were made in order to present what came to be known as MIP Cluster.
"This profiles the fact that we have the right skills at all levels in the fabrication process, not least when it comes to subsea-related projects," says Jan Gabor, Head of Marketing at Mo Industripark AS.
He says that this was what they focused on presenting during ONS, which involved a large number of companies from Rana. Jan Gabor and Director of Operations Terje Lillebjerka represented MIP AS.
"We took part in close cooperation with Oil and Gas Cluster Helgeland and the companies affiliated to the cluster," says Gabor.
MIP Cluster was presented at the Momek Group AS stand and also at the Oil and Gas Cluster Helgeland stand.
"This was the first time in many years that MIP AS took part in ONS. We received a lot of positive feedback from people who were glad to see us back, as Mo Industripark AS and our partners through MIP Cluster are vital central stakeholders in the north," says Jan Gabor.
He explains that a number of points of contact were established with companies that may be of interest to MIP Cluster and MIP AS in future.
A total of more than 60 delegates from Helgeland took part in ONS at this year's event, from both political parties and trade and industry. Gabor commends Oil and Gas Cluster Helgeland for excellent organisation and programming throughout ONS by project manager Bjørn Audun Risøy of Kunnskapsparken Helgeland AS.
"Overall, this was a clear indicator that Helgeland is a petroleum region. It was made very clear that an entire region stands shoulder-to-shoulder," concludes Jan Gabor, Head of Marketing at Mo Industripark AS.
Categorised in: Gulesider, On the front page
Del
Del
Del