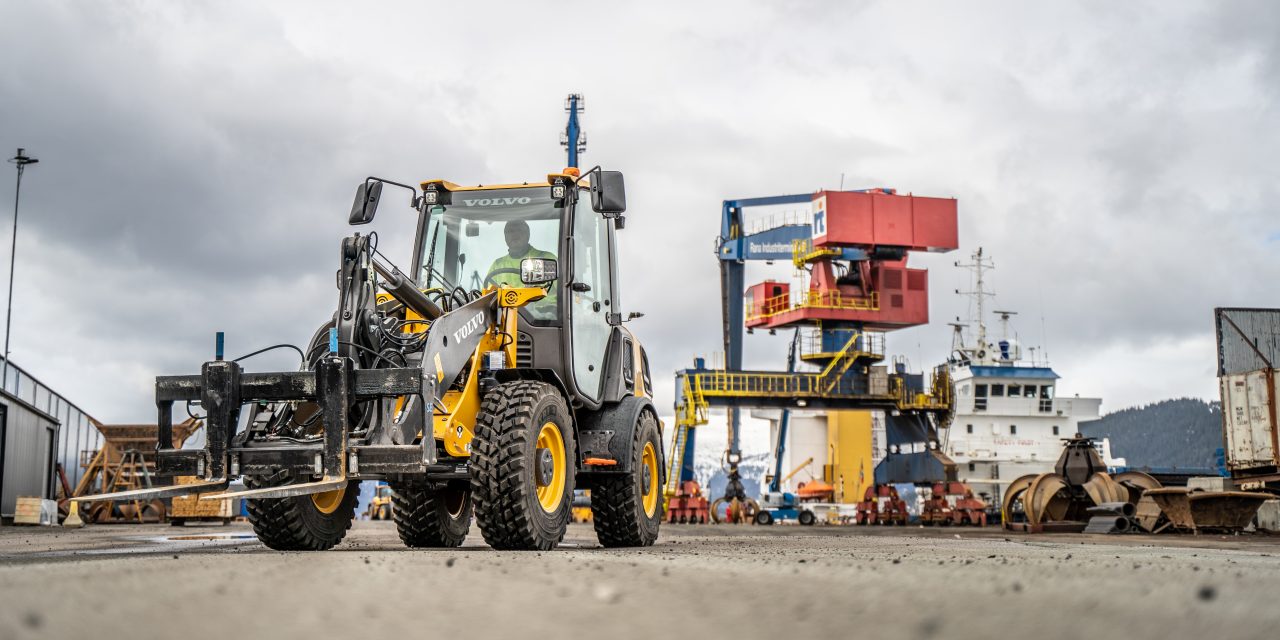 Rana Industrial Terminal goes electric
26 September, 2023 13:39
Del
Del
Del
Rana Industrial Terminal, located in Mo Industrial Park, has embarked on several initiatives this year to reduce greenhouse gas emissions by implementing onshore power and acquiring a new electric wheel loader.
Rana Industrial Terminal (Rana Industriterminal, RIT) announced its latest green project with the launch last week of its new onshore power facilities, in partnership with Wilson and Elkem Rana. Now ships moored at the port can shut down their engines and run on 100% renewable energy during loading and offloading. The result is that local pollution and emissions of greenhouse gases will be reduced dramatically.
RIT General Manager Alf Øverli is pleased to announce the onshore power project.
"We are really happy to finally have the onshore power facilities in place. This is going to have a hugely positive impact both for our customers and for the environment," Øverli says.
"This is the standard of the future. It will no longer be acceptable for a ship to be polluting while in port when there are sources of renewable energy readily available. With onshore power, ships are able to shut down their engines but still run all necessary operations," he continues.
The first ships from Wilson have already been connected to the onshore power facilities during their time in port. Tommy Johnsen, ship agent at Wilson, is satisfied with the partnership with RIT.
"Wilson owns 110 ships that are all set up to receive onshore power. This is going to have a massive environmental benefit. The ships often spend days in port. A freight vessel might be in port for as long as 40% of the time, so the use of shore power represents substantial cuts in emissions," Johnson says.
But the onshore power project is not the only green step that Alf Øverli and RIT have taken in 2023. Earlier this year RIT announced that it has bought its first electric wheel loader – a Volvo L25, weighing 5.4 tons.
"An electric loader comes with plenty of advantages, including the removal of both air and noise pollution. That alone also makes it a good investment for employees and our working environment," Øverli says.
The plan is to replace all RIT's vehicles with electric vehicles eventually.
"In a few years' time our entire fleet of vehicles will be electric. All our cranes and cars already are electric, so all that's left to replace with electric vehicles now is some heavy machinery," concludes Øverli.
Tags: electric wheel loader, green shift, Mo Industrial Park, Rana Industrial Terminal, shore power, The Green Shift

Categorised in: Gulesider
Del
Del
Del