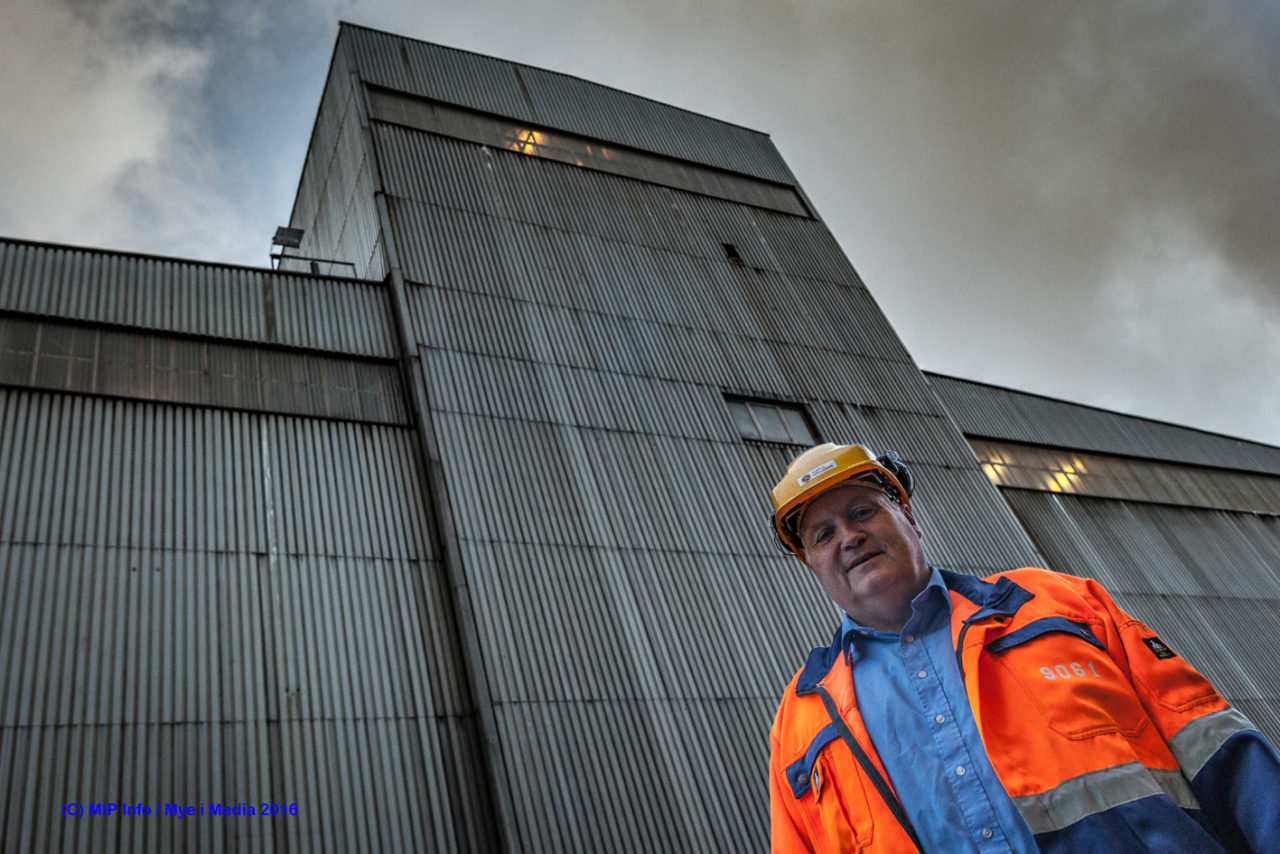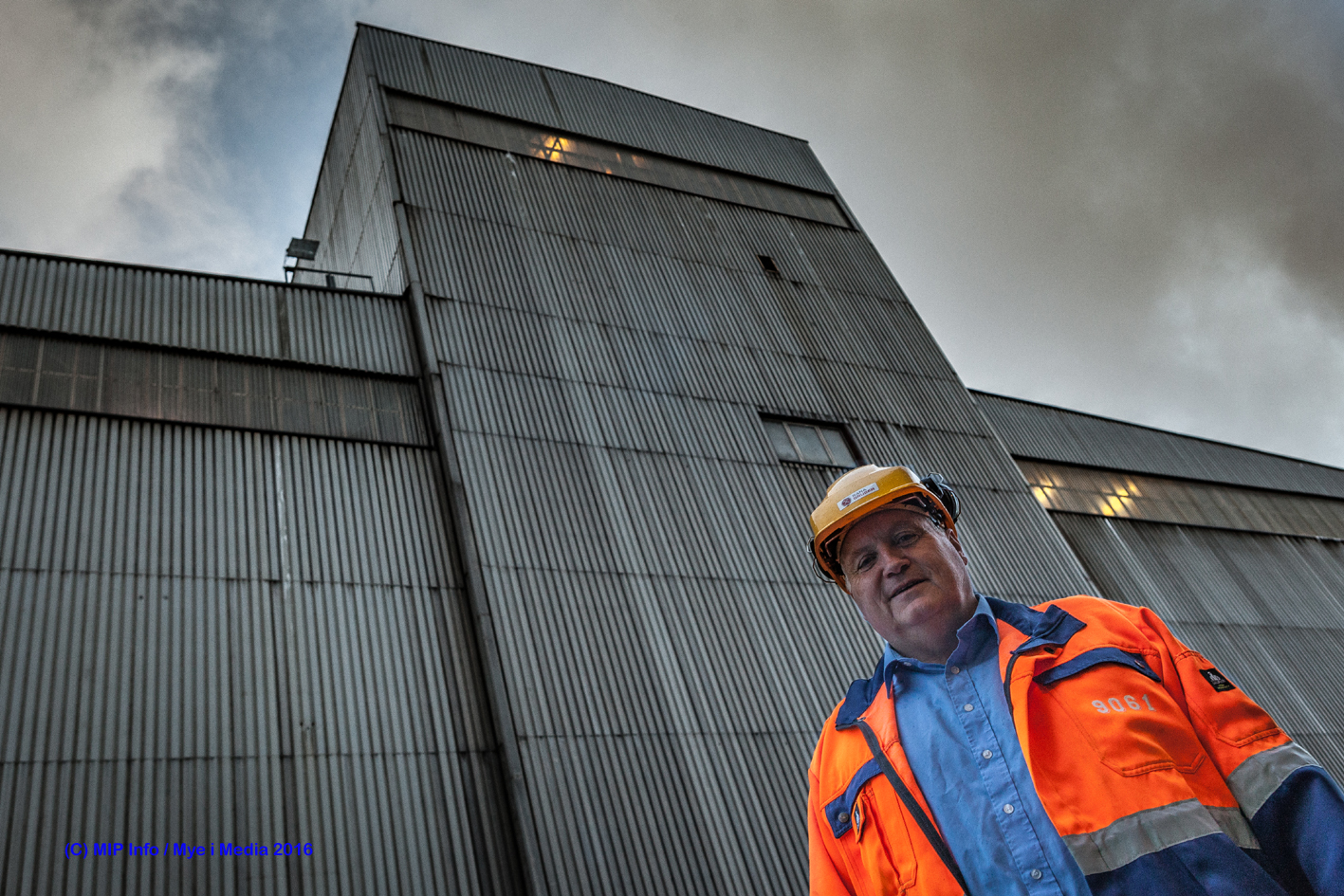 Year of destiny for Rana Gruber
26 February, 2016 13:47
Del
Del
Del
– If we can make it through 2016 in one piece, then we will be on safer grounds.
√ The ore prices have fallen by 80 percent
√ Currency hedging results in losses of millions
√ Considering moving operations to Germany
Kjell Sletjsøe, Managing Director at Rana Gruber A/S, does not like to tell the future. He leaves such things, as he puts it, to fortune tellers and stock brokers. So when asked the question that almost everyone asks: if he knows when the market will turn and the arrows start pointing upwards again, the answer is simply "no".
However, he does tell you a lot about the realities and consequences behind these. An ore market in considerable flux with Brazil and Australia having increased production. A China which everyone puts their trust in but which cannot absorb the increase in production all by itself.
Overproduction causes a fall in prices. Such are the mechanics of the market. Ore prices have fallen by 80 percent in about three years. A market in almost free fall makes action necessary. Not everyone manages to restructure quickly enough.
– In Scandinavia, it is just LKAB and us left of what was once five ore companies. Syd-Varanger, Dannemora and Northland have all closed, says Sletsjøe.
Stable and low
Sletsjøe has invited us to his office in Gullsmedvika. The administration is based in a building that was completed in 2012 after the fire in the concentrating plant almost exactly five years ago. Rana Gruber has been in trouble before.
– You need a cup each. If we go down, we are going down in style, Sletsjøe chuckles when Gule Sider's photographer and journalist suggest that they can share a cup of coffee, to ease the burden.
Sletsjø takes a sip of coffee from a Thermos mug, grabs a pencil and draws a graph on a scrap of paper on the table in front of him. High peaks and deep valleys. Densely. Any market tends to swing, fast and often. The problem in the ore industry is that the prices have been very low, for very long. Sletsjø draws a straight line across the step curves.
– When the price was 140 dollars a few years ago, people laughed at those who predicted a fall in prices of 25-30 percent. Those who said 80 dollars were ignored. Now we have hit 40 dollars, says the managing director of Rana Gruber.
Currency bang
As if a difficult market would not be challenging enough; Rana Gruber must use its liquidity to pay old bills. A weak NOK rate could have softened the fall somewhat, but has not provided any comfort. Rana Gruber listened to what turned out to be bad advice; they chose to hedge the Norwegian krone against the US dollar before 2013. They have lost many millions from that in 2015 and they will continue to lose in 2016.
– This will be very technical but in brief: Having to buy dollars for more than NOK 8 and then sell them at NOK 6 is bad business, says Kjell Sletsjø.
And then there is the property tax dispute with Rana municipality. The Court of Appeal has repealed the municipality's collection of property tax from Rana Gruber for the period 2011-2015 and Rana Gruber has demanded NOK 24 million back from the municipality. So far, Rana municipality has paid NOK 6 million of this. Rana Gruber is bringing action against the municipality to get the rest.
– When we have bills to pay, clearly 18 million is a lot of money. A considerable amount of money, Rana Gruber's boss says.
One of the first things that Sletsjø did early on in 2014 when taking over as the Managing Director at Rana Gruber in the summer of 2013 was to make efficiency measures. Now, two years later, the results are clearly visible. The cost level in 2015 was about NOK 380 million lower than it was two-three years earlier. The number of employees and contractors has been reduced from about 460 to far below 300 in the new year.
– This has been entirely necessary. If we had been operating with the same cost base as three years ago, then in 2105, we would have an operating loss of NOK 390 instead of NOK 10 million. Or rather, we would not have had any result at all because there would not have been a Rana Gruber to operate unless we had taken those measures, says Sletsjø.
One record after another
However, the guy who has taken charge of 2016 is not a dejected manager. The measures taken ensure efficient operations making the company competitive on the international market despite the Norwegian cost levels. Even though staffing has been reduced by about 25%, they hit new production records both in the mining activities and in the concentrating plant. About 10 million tonnes of ore was shipped from Rana Gruber's port last year. That is also a record and contributed strongly to marking a new shipping record in 2015 for Rana port at 4.84 million tonnes of goods.
– Every single employee at Rana Gruber produces twice as much as three years ago, says Sletsjøe praising his staff. Just as necessary as it has been to reduce staff, just as necessary it has been retain the best people.
– We could not just stick to the principle of seniority without making other considerations. We must keep the best people. We have a high level of innovation this has to a great extent been based on the employees and their ideas, initiative and co-operation, Sletsjø explains.
In addition to an increase in volume, which goes a long way to compensate for low prices, Rana Gruber makes money on special products such as Colorana pigments and special minerals.
– This is nothing in terms of the tonnage, ten percent of the turnover and a significant positive contribution to the bottom line, says Sletsjø.
The production of such special products is something that Rana Gruber intends to invest more in in the future. But that will not happen in Rana. High property taxes have become much too much of a source of income for the municipality for that.
– No decisions have been made but we are looking into setting up shop in Germany, says Kjell Sletsjø.
The year of destiny
Any establishment abroad does not, however, mean that the Rana Gruber manager intends to wind things up at home. But 2016 will be difficult. The prognoses do not show any upturn in the markets and for Rana Gruber, this year will be characterised by the dollar-boom and old bills to pay.
– Yes, you could say that this is a year of destiny. Debts must be settled at the same time as we have to operate in a tough market and several competitors will go under. So we are dependant on banks and customers believing in us, says Sletsjø. For the first time, he comes up with something of a telling of the future.
– If we can make it through 2016, then we will be much better off. Much of the debt will have been settled and there will, most likely, be fewer competitors out there.
That, along with NOK 18 million from Rana municipality will be important contributions for ensuring that Rana Gruber can celebrate next year as a viable 80-year old.
Tags: Colorana, Iron Ore, Iron Ore Mining, Mo i Rana, Mo Industrial Park, Norway, Rana Gruber AS

Categorised in: Gulesider, On the front page
Del
Del
Del