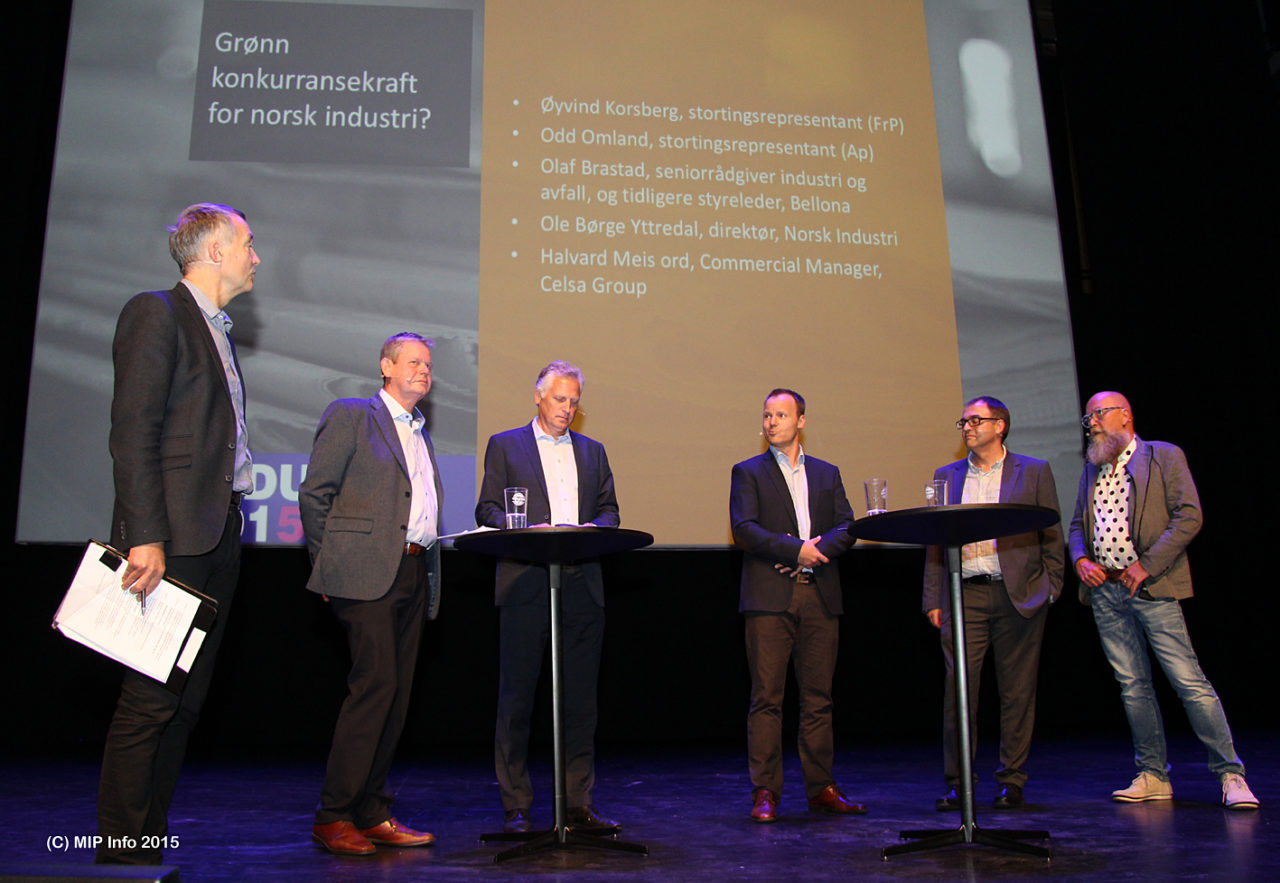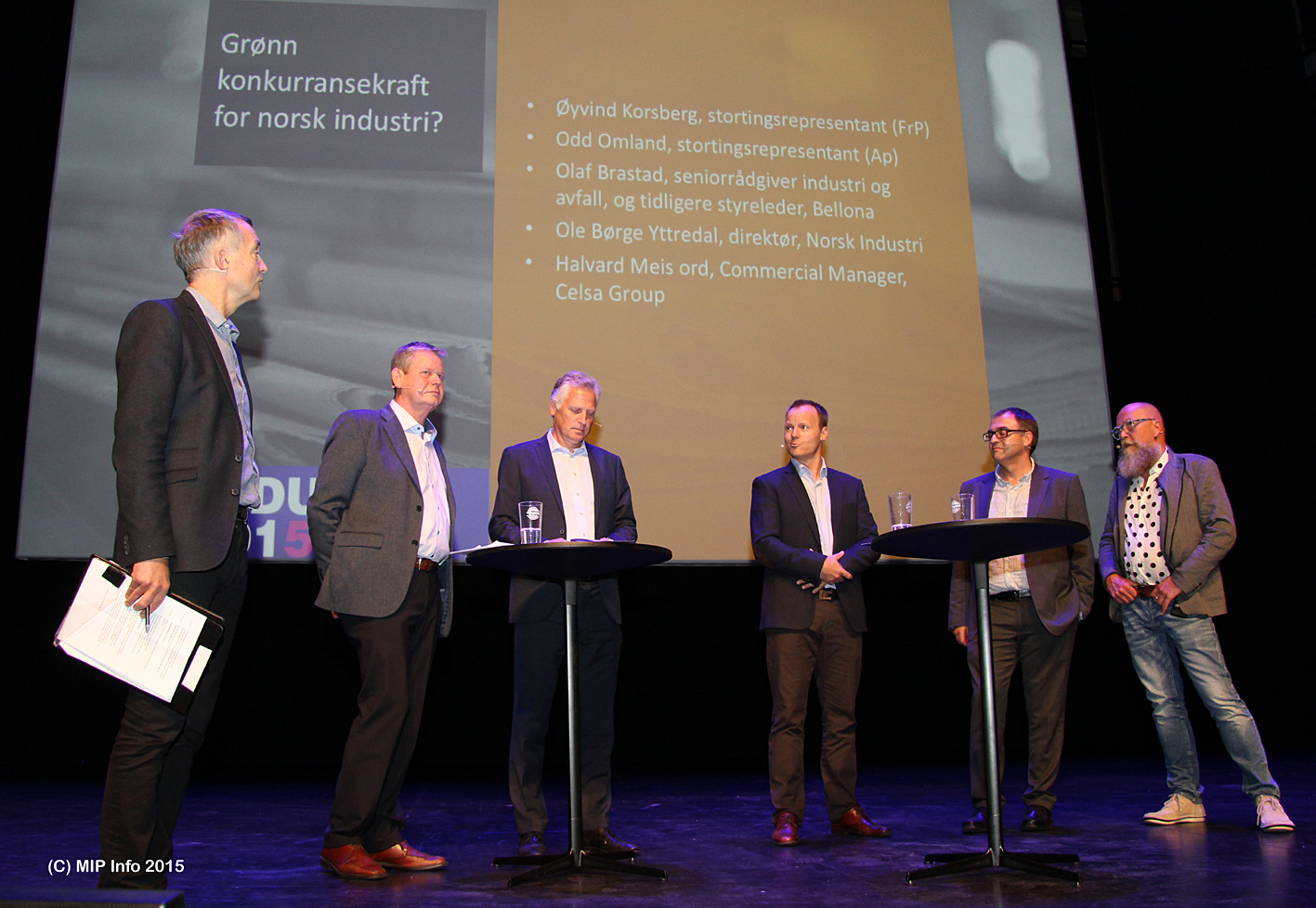 You Purchasing requirements promote CO2 reduction
13 October, 2015 13:09
Del
Del
Del
"All of us here at Celsa Armeringsstål AS were really pleased with the amount of attention we received during Industri 2015 with regard to our challenges."
These are the words of Halvard Meisfjord, Head of Sales at Celsa Armeringsstål AS. It seems – he adds – as though people agree that when Norway imposes strict environmental requirements and other requirements for industry and other manufacturers, it is also necessary to establish schemes to promote sales of the same goods and products through eco-friendly production.
"Norwegian environmental requirements must not just create a burden for Norwegian industry compared with its competitors – there is widespread support for this perspective. It is also necessary to establish schemes that reward environmentally responsible production," he says.
During Industri 2015 held in Bodø on 23 and 24 September, of all the industrial companies from Nordland Celsa Armeringsstål AS attracted the most attention. The most specific problems discussed during this national industrial conference were essentially linked with the relationship between specific Norwegian environmental requirements on the one hand, and on the other the introduction of purchasing requirements from the public sector which reward businesses upon which such environmental requirements are imposed. In this context, the example of Celsa Armeringsstål AS was highlighted and given plenty of time in the debate.
World-leading industry
There was a lot of emphasis on mainland industry in general and power-refining industry in particular during introductions and debates at the conference. One recurring theme was the fact that this industry is a world leader and also competes in a global market, with all the efficiency demands this imposes. In addition, there are our Norwegian environmental requirements to bear in mind.
"Given the debate held at Industri 2015, it seems as though the business community and politicians agree that we have to provide competitive conditions for the power-refining industry. Our politicians recognise the need for our products, and they declare that we should have this industry in Norway. This is directly at odds with the people who actually wanted to phase it out just a few years ago," says Meisfjord.
The background to this, he says, is that we now have a clearer understanding of the fact that we need commercial engines other than the oil and gas industry here in Norway.
"This is why there is growing understanding of the fact that the established export industry is the best thing we have on which to build. We have spent many years developing the industry in the face of strong international competition by building things up gradually through constant improvements," says Halvard Meisfjord.
As regards the debates on environmental requirements affecting companies such as Celsa Armeringsstål in today's competitive arena, Meisfjord had this to say.
"The basic principle, as we see it, is that if Norway has to have special requirements in respect of industrial production, the public sector also has to impose environmental requirements during procurement processes for Norwegian projects from the same industry. Such requirements must be imposed on Norwegian and foreign tenderers alike. Nordland County Council is supporting us in this, and they have also made decisions on it.
If we fail to establish such provisions, Norwegian industry in these fields will simply cease to exist. As far as we are concerned, we are constantly battling to survive in the face of strong international competition, given the framework conditions we have in Norway. There is a clear need to establish regulated willingness to pay in this respect by imposing environmental requirements in respect of procurement processes for public projects," he says.
Meisfjord indicates that this has been achieved by means of measures for promoting the sale of electric vehicles in Norway, among other things. The special Norwegian schemes, with reduced charges and other benefits, have created enormous willingness to pay in this respect. In Norway, Tesla has seen the fourth highest sales among car manufacturers to date in 2015. Having eco-friendly cars has become popular, and other car manufacturers are now taking Tesla seriously.
"This is a highly successful measure for altering people's purchasing preferences, encouraging them to be more eco-friendly. Tesla is seeing very strong growth in its car sales and other electric cars have followed in its footsteps – and all because of the incentives offered by the authorities," says Meisfjord, adding that where the public sector leads, the private sector follows.
Entire life cycle
Celsa Armeringsstål AS is the only manufacturer of rebar in the Nordic region. Their domestic market is also the Nordic region, and they are facing direct competition from Belarus, Latvia, Poland, Spain and other European steel manufacturers, along with pressure on prices from countries such as Turkey and China. Over the last few years, the latter has started exporting metals such as aluminium and steel to a greater extent, resulting in much fiercer competition in terms of prices. These manufacturers actually have a competitive advantage over Celsa Armeringsstål nowadays, as their expenses relating to reduction of environmental emissions are considerably lower.
Celsa Armeringsstål is one of the top companies in the world when it comes to eco-friendly production. This is down to a number of significant factors such as the use of clean water power, strict Norwegian environmental requirements and great determination when it comes to modernising and investing in the plant in Mo i Rana. Smelting scrap iron in Mo i Rana results in 50 per cent savings in terms of CO2 emissions compared with other European producers. CO2 emissions among steelworks producing rebar from ore are eight to ten times higher than our emissions. China has one of the largest footprints when it comes to CO2 emissions from steel production..
"In our view, the Green Shift means we have to view the entire life cycle of a product, from collecting the scrap and transporting the scrap, through smelting and rolling, to shipping the rebar out to customers. The life cycle also includes the end products in which our rebar is used – bridges, buildings and other concrete structures, for example," says Halvard Meisfjord.
He points out that for their product, there is no consumer power to influence the choice of manufacturers.
"Our products are hidden in the great scheme of things, used in building and construction projects. This means that without a demand element linked with environmental requirements from the authorities, the price of the product will be entirely crucial when making purchases. A demand to choose environmentally responsible products in this industry does not come about all by itself," he says.
In his opinion, nothing will happen unless good intentions are shaped into specific regulations linked with the law.
"We also have to establish a system which allows this to be monitored and controlled. For instance, the entire automotive industry has its sights set on the tax system for engines in relation to exhaust fumes emitted. This is another reason why the Volkswagen scandal is so enormous," he says.
Building and construction
In Sweden, a report has been compiled in the construction industry. It was estimated that that the construction industry emits 10 million tonnes of CO2 a year, while emissions from traffic in the transport sector stand at 11 million tonnes of CO2.
Halvard Meisfjord believes that the situation in Norway is much the same. This means that it will be very important to take action in the building and construction sector as well in order to attain the overall national targets for CO2 reduction.
"A number of targets and requirements for reducing climate gas emissions have been implemented in respect of transport and traffic. As regards building and construction, there are few or no specific requirements at present compared with the transport sector," he says.
He points out that choosing rebar is one of a number of important factors here, and a factor which is of major significance in the construction of roads, bridges and other infrastructure.
"The limited volume of steel products in building and construction projects may have a great impact in terms of total CO2 emissions. By way of example, rebar often accounts for just 1 to 2 per cent of the total costs in a major construction project. Even so, the overall carbon footprint for the construction project can be reduced by 3 to 5 per cent just by choosing the right kind of steel. This means that a single product like rebar can have a great impact," says Meisfjord.
He refers to the fact that Sweden has started setting targets for reduction of CO2 emissions from building and construction, aiming to reduce the carbon footprint by 10 per cent.
Following up
With lots of positive feedback from Industri 2015, Celsa Armeringsstål AS is looking to continue its efforts to influence decision-makers in Parliament and government in order to establish eco-friendly procurement requirements for public projects.
"We want to continue working in partnership with Nordland County Council, the Federation of Norwegian Industries, Zero, Bellona and anyone else we can cooperate with on this matter. We have a clear target – to increase emphasis on reduction of CO2 emissions from the building and construction industry. This is because there is a lot to be gained in attaining the national targets. And as a manufacturer we all have opportunities to do our bit, while also reinforcing our environmental profile both within the company and throughout Norway. Our interests actually coincide with the interests of the authorities as far as this issue is concerned, and for us it is important for politicians and the authorities to see this," concludes Halvard Meisfjord, Head of Sales at Celsa Armeringsstål AS.
Tags: Celsa Armeringstål AS, CO2 emissions, environmental requirements, Industri 2015

Categorised in: Gulesider, On the front page
Del
Del
Del